Scio Occultus Res
Obrimos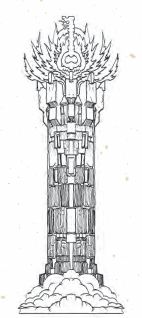 Obrimos, the Watchtower of the Golden Key, stands in the part of the Supernal World called the Aether. It usually manifests as a tall, shining tower, rising from the ground into the heavens, and is always lit at the top by the Celestial Flame.
Obrimos mages are often called Theurges. Their ruling Arcana are Forces and Prime. Their inferior Arcanum is Death.
Obrimos Theurges tend to have a personal connection to the Divine, whatever they feel the Divine to be. Many of could be called zealots, but the zealotry is as likely to be the quiet resolve that drives the compassionate shelter worker as the violent certainty that creates a fanatical holy warrior. That said, most don't let their devotion and faith blind them to the realities of the world. With their mastery of energy and the substance of magic itself, they have a reputation for being loud and showy in their power, but the more ascetic among them have found ways to use their strengths in surprisingly subtle ways.